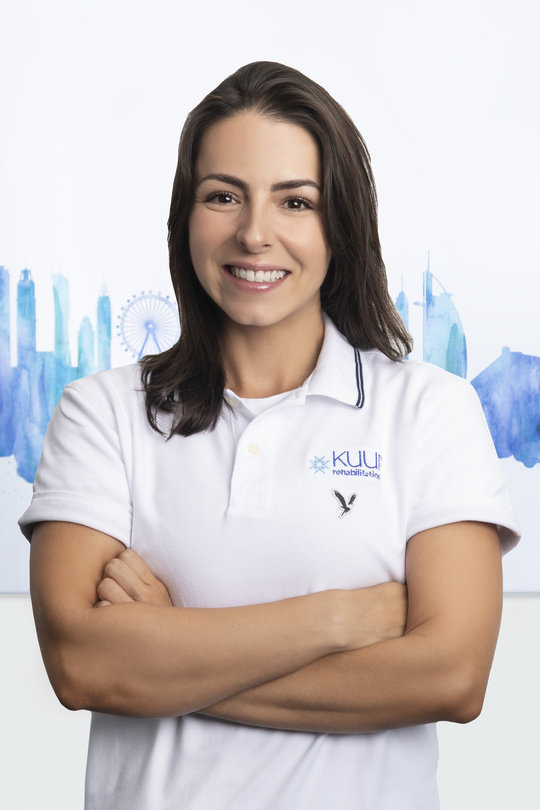 Monique is a very experienced physiotherapist graduating from Estácio de Sá University in Rio de Janeiro - Brazil, with a B.Sc. Physiotherapy in 2009.
Initially, she trained and specialised in clinical manual lymphatic drainage and scar tissue mobilization in 2008. In 2009, she discovered her love of Clinical Pilates and became a certified Pilates Instructor. She became extremely passionate about this amazing discipline, especially mat Pilates, as she feels it is so accessible and you can do it anywhere, at anytime. Since then, she uses Pilates as part of her treatments to recover from and prevent injuries in people from the general population to professional athletes.
Monique moved to Dubai in 2015 and since then completed additional training in manual therapy and uses it mainly as part of her treatment approach. She focuses on trigger point release and Myofascial release, together with muscle activation, movement education and strengthening. As part of her manual therapy she may also use her clinical judgement to implement Mulligan belt mobilisations, manipulation, cupping or kinesio taping if needed. Patients will notice a direct positive effect in pain and mobility from the treatment.
Her personal enthusiasm for more than 20 years in weight lifting, gym and fitness lead her to get her personal trainer certification in 2022. This has enabled her to combine the best rehabilitation programs for recovering from injury and improving performance.
Her absolute passion is lower limbs (hips, knees, ankles, feet). There is nothing she loves more than helping people to improve either control and/or mobility and reduce/resolve their pain. She feels it is very important to consider the body as a whole and therefore, has a very holistic, individualised approach to the patient which helps her get the best results with patients.
Monique speaks Portuguese and English.