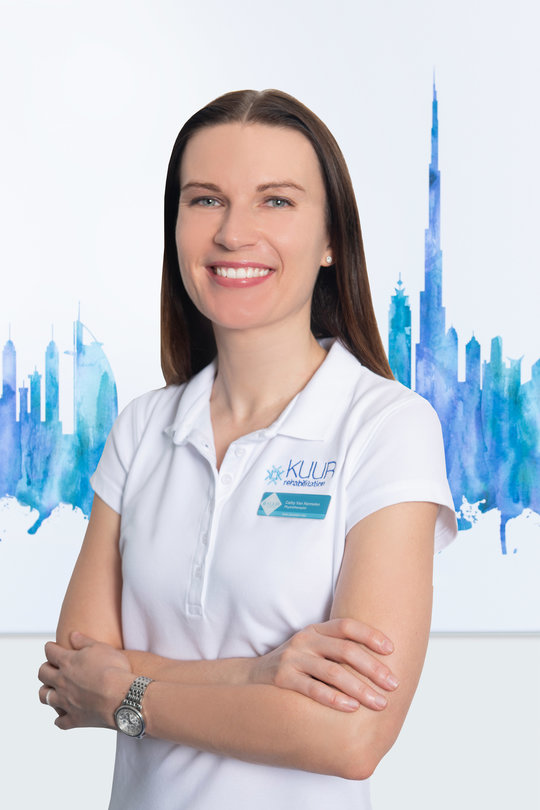 Cathy's Key Clinical Skills and Interests
Integrative Physiotherapy Management
Bowen Therapy and Neurostructural Integration Technique (NST)
TMJ and Jaw Pain, Migraine and Sinus Headache Treatment
Spinal and Joint Manual Therapy and Mobilisation
Dry Needling and Deep Tissue Techniques
Back and Neck conditions
Tendon Rehabilitation
Pre and Post- operative and Injury Rehabilitation
Chronic Pain and Stress Management by utilising above-mentioned holistic therapies
A physiotherapist for 17 years, Cathy has lived in Dubai since 2008 working in leading physiotherapy and sport clinics treating orthopaedic and musculoskeletal disorders, post-operative conditions and sports injuries.
Cathy obtained her degree as a Physiotherapist in Pretoria, South Africa, and has completed a Certification in Spinal Manual Therapy, as well as a Certification course in Advanced Sports Rehabilitation at Curtin University of Technology, Perth, Australia.
Other post-graduate courses include: STOTT Pilates Spinal, Pelvic and Scapular Stabilization Matwork & Reformer, Dry Needling, Clinical Soft Tissue Techniques, as well as Sinus Headache, Migraine and TMJ pain course.
In 2016 Cathy embarked on qualifying as a Bowen Therapist. Bowen Therapy is often called the 'homeopathy of body work' and she has found that by combining her physiotherapy skills with the Bowen technique it has enhanced her ability to treat clients more effectively and obtain long lasting improvements.
"The human body is amazing, its ability to heal itself is amazing and it is endlessly wise. All the healing potential is within us, and I believe holistic and integrative healthcare is key to aiding the body with its healing process. I have a deep passion to help people out of their pain. By combining Physio and Bowen Therapy I have seen wonderful results. I aim to work towards improving the wellbeing of people and at the same time I have the honour to work with the human body, which never ceases to be a beautiful work of art."