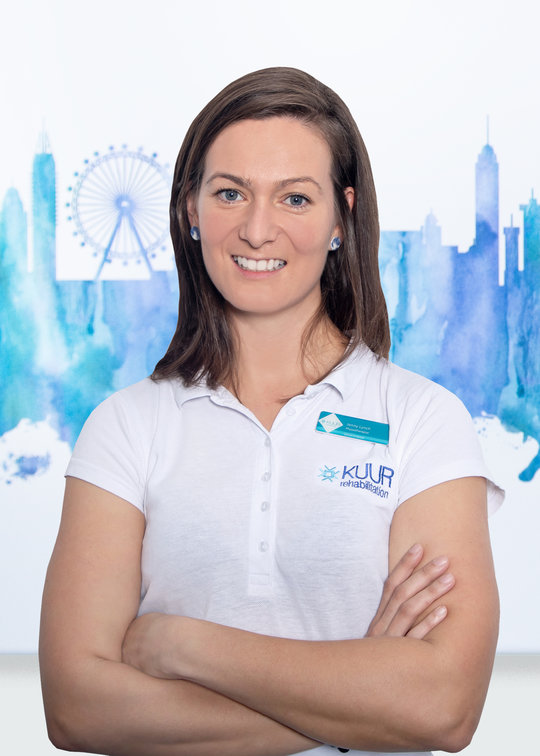 Jenny Lynch completed her Master of Physiotherapy (Pre-reg) in Aberdeen before working in the NHS for around four years which gave her extensive experience treating a wide variety of patients from different culturual backgrounds and gave her the opportunity to learn from many leading experts in the core specialities of physiotherapy. She then progressed to working in private practice for Nuffield Health where she grew and developed a physiotherapy team from scratch. She also has extensive sports injury experience having been the physiotherapist for Leodensians Rugby Football Club, Hunslet Hawks Rugby League Club and Featherstone Rovers Rugby League Club. In Dubai she has been the lead physiotherapist for the Jebel Ali Dragons RFC for the last six years.
Jenny is a highly qualified physiotherapist with a passion for sports injuries and musculoskeletal disorders and has treated all sorts of sports people from semi-professional rugby players to footballers, marathon runners, cyclists and triathaletes, golfers and tennis players. She has extensive experience treating a wide range of musculoskeletal problems including back pain, muscle and ligament injuries, postural and biomechanical imbalances, post-surgical rehabilitation, headaches, TMJ (jaw) conditions and whiplash. In addition to this she is fully trained to do ergonomic assessments.
Jenny also has a special interest in ante and postnatal physiotherapy. She is fully qualified in the Fit Back and Bumps program and has had a lot of experience helping women throughout their pregnancy and afterwards with all kind of problems related to it including pelvic floor rehabilitation, incontinence, back and pelvic pain and Diastasis Recti. Having had three children herself and having been through a lot of these challenges, she is passionate about helping women return to or continue with sport and their normal functional activities ante and post-natally.
Some of the treatments she provides are joint mobilisations, positional and soft tissue releases, cranialsacral therapy, visceral releases, manual lymphatic drainage, kinesio and sports taping, acupuncture, and gait analysis.
Jenny is bilingual in English and French.