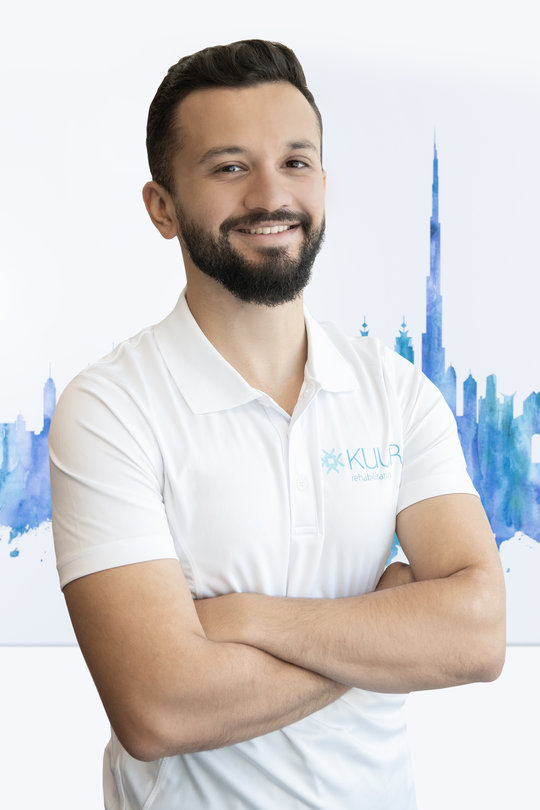 Bashir graduated with a BSc in Physiotherapy from the University of Sharjah in 2020. He then proceeded to do his internship at Rashid Hospital.
From his time at Kuur Rehabilitation, he has been a vital part of the physiotherapy team looking after a number of different sporting athletes competing at the top of their sport. Bashir has been highly involved with rugby since he started at Kuur in 2022. Including looking after Jebel Ali Dragons RFU, he has looked after the national Manu Samoan rugby 7s team. Following this, he has developed a special interest in upper limb injuries especially traumatic shoulder injuries (including dislocations) and complex hand fractures. His dedicated, dynamic and fun approach to rehabbing these injuries has led to excellent recovery for these patients. Post-surgical rehab is another field of interest of his. Some of the other sport persons he has been involved with has been in facilitating Gaelic Footballers, Hurlers, Swimmers return to the sport they love and compete more efficiently.
Bashir's love of learning and enthusiasm makes him an integral part of the team and he is a firm believer in the value of research and evidence-based practice, which is how he maintains his assessment and treatment approach up to date. He also loves bringing his knowledge on sports exercise and conditioning into his rehabilitation programs to create a program dedicated to that individual.
Bashir has additionally developed a passion for chronic pain management especially in the elderly population. He is well-versed in the current scientific literature on chronic pain and geriatric rehab and will deliver the best transformative care to your elderly loved ones.
Bashir prides himself by treating the person rather than the condition and establishing a firm therapeutic bond with his patients. He recognizes that we are complex beings and acknowledges not only the biological aspect of pain and injuries, but our psychological and social aspects as well. To get a handle on those factors; his assessment is thorough and objective, his patients are heard, and their progress is trackable.
Bashir's native language is Arabic, he is fluent in English as well.